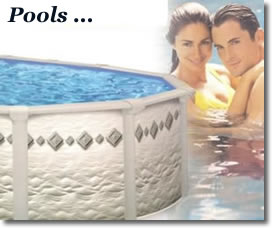 Easy to install and easy on the budget, an above-ground pool is a wise choice. The fun of summer in your own backyard! With many shapes, materials and finishes available, you and New Way Equipment Home & Pool Center can create the pool that is just right for your family!
Call us at 585-226-3950 today!
We are an authorized dealer for:
Blue Cascade Pools - Blue Cascade offers a full line of above ground pools to fit any lifestyle and budget. New Way carries the following models:
- Victoria
- Caledonia
- Niagara
- Harmony


Aqua Leader - Resin above-ground pools,
New Way carries the Quantom model of the Aqua Leader line.


Seaspray Pools - The Seaspray Matrix model blends form, function and beauty to create an exquisite yet durable pool. For over 40 years, the Seaspray line of above ground pools has been synonymous with quality pool construction.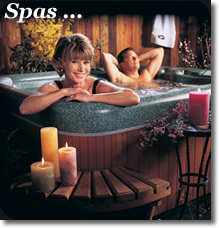 Spas add another dimension to your back yard experience - another level of excitement, entertainment and enjoyment. The therapeutic benefits are undeniable and recommended by physical therapists and healthcare professionals the world over. The warm water, gentle massage and adjustable jets can relax muscles, relieve pressure and release tension - making your spa the ideal place to unwind at the end of a long day.

We carry::
Saratoga Spas - Proudly manufactured in the USA. Exacting craftsmanship, exceptional quality and innovative design, all in a beautiful package. New Way Equipment Home & Pool Center carries these Saratoga Spa lines:
- Luxury Spas
- Adirondack Spas
- Geyser Spas
Stop by & see our spa showroom.
We carry over 10 different
Saratoga Spas!